View our Ko Lanta map to see the location of Ko Lanta's major beaches and the surrounding islands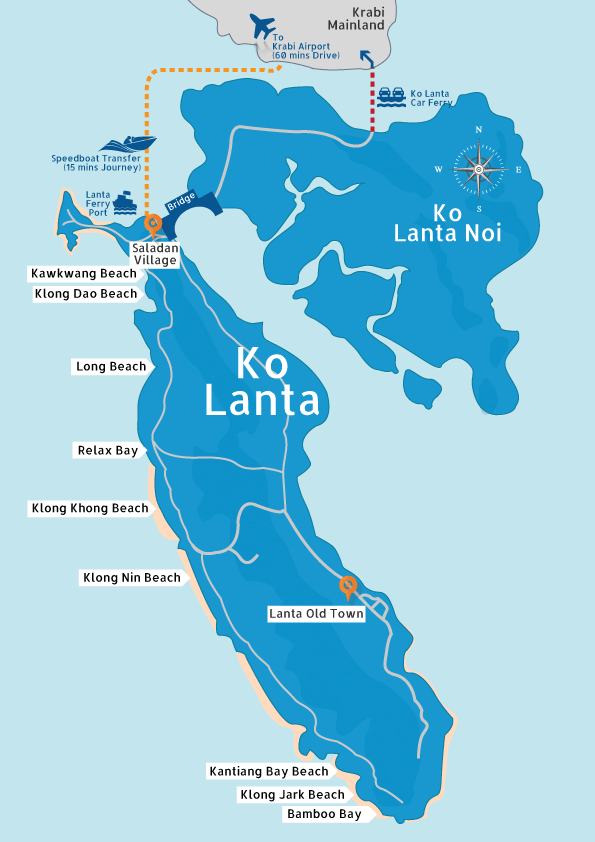 Ko Lanta is a big island with numerous different beaches, each one with its own character. You arrive at Saladan at the far north of the island, whether you're arriving by ferry, express transfer or minivan – it takes about an hour to drive right to the far south of Ko Lanta.
Ko Lanta Holiday Essentials
You'll find a paper Ko Lanta map in the reception area of any hotel or guesthouse – it's worth keeping this with you as you travel around the island so you don't lose your bearings. And of course there's Google Maps or Apple Maps on your phone if you've got a Thai SIM card.
Klong Dao Beach is the busiest beach on Ko Lanta as it's the nearest to the island entry point in Saladan. It's only a 10 minute drive from Saladan to Klong Dao.
Long Beach is also popular but as it's over three kilometres long it rarely feels crowded. Long Beach is also home to the award-winning luxury boutique hotel Layana. There are plenty more choices for places to stay on Long Beach – see our Long Beach page for more details.
Klong Khong is a quieter beach, more laid back and with some nice villas for rent within walking distance of the seafront. For more info about Klong Khong, see our Klong Khong Beach page.
Klong Nin Beach has a village feel, with lots of beachfront restaurants and bars all close together and easily accessible by road. There are some great beachfront villas for rent in Klong Nin. For more info about Klong Nin, see our Klong Nin Beach page.
Kantiang Bay is one of Thailand's most beautiful beaches, a near-perfect crescent of sand and sea and home to Ko Lanta's original luxury resort Pimalai. For more info on what's in Kantiang Bay, see our dedicated Kantiang Bay page.
Nui Bay is a tiny beach near to Klong Nin with very little development – great for a day visit. There's a couple of restaurants overlooking the bay, notably Diamond Cliff, which give spectacular views.
Klong Jark Beach is also very quiet with little development – there's one main resort here, the Anda Lanta.