WHERE TO STAY ON KO LANTA?
Ko Lanta hotels, resorts, villas and bungalows offer something for every one's taste with over 200+ lodging options spread over seven beach areas and charming Lanta Old Town.
Choose from Ko Lanta luxury hotels and family beach resorts to Thai bungalows and Ko Lanta budget hotels. Decide which area you like best from the details below and then use our Hotel Search for Ko Lanta's guaranteed, lowest hotel and resort rates.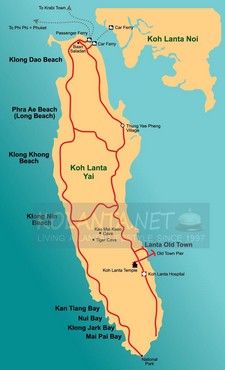 WHERE IS EVERYONE?
Generally speaking, the farther south you go down the west coast, the less commercial Ko Lanta becomes. However, all beach areas are appreciated by different people for different reasons. Even Klong Dao, with the island's highest resort concentration, is still the favorite of many returning tourists.
Divers and backpackers tend to gather in the Long Beach, Klong Nin or Kan Tiang Beach areas and adventure and culture seekers often find their way farther down south or to Lanta Old Town on the east coast. There are also an increasing number of Koh Lanta luxury hotels and resorts on most beaches. Koh Lanta Maps
UNDERSTANDING WHERE YOU ARE
Ban Saladan is located on the northwest end of island which is where most tourists arrive by passenger and car ferries. Near this village is Klong Dao Beach, the first of the seven different beaches that run down the west coast. The Far South Beaches and the National Marine Park are at the end of the island on the south western tip. Lanta Old Town is on the opposite south eastern coast.
Ko Lanta Holiday Essentials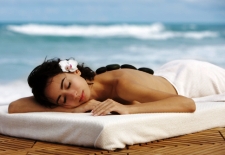 KLONG DAO BEACH
Klong Dao is the closest beach to Ban Saladan, the tourist center of Ko Lanta. This beach is Ko Lanta's most popular family beach with the island's highest concentration of resorts and hotels. This 3 km stretch of sand was the first beach on the island to welcome tourists.
Best Bets: Twin Bay, Best Western, Andaman Lanta, Pi Lanta Spa Resort, Ananda Lanta Resort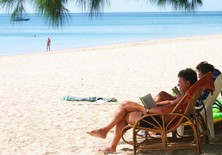 PHRA AE BEACH
Phra Ae Beach, also known as Long Beach, is considered to be one of the top beaches in Thailand. It has a mix of high-end luxury resorts and cool, backpacker bungalow resorts and guesthouses. Phra Ae is child safe with shallow shores and small waves.
Best Bets: Lanta Sand Resort + Spa, Layana Resort + Spa, Nakara Long Beach Resort, Mook Lanta, Lanta Casuarina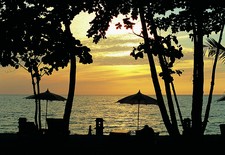 KLONG KONG BEACH
This beach follows Long Beach on the way to the south end of the island. It is a three-kilometer stretch of sand with palm trees and a collection of small resorts. Bungalow prices here are lower than the first northern beaches, with a number of small, family-owned and operated establishments.
Best Bets: Chaw-Ka-Cher Resort, Lanta Pavillion Resort, Alanta Villa Hotel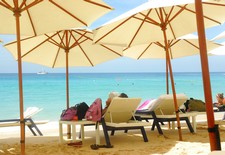 KLONG TOB BEACH
Klong Tob is a small area near the west end of Klong Nin Beach. This area is ideal for people who want privacy but still want to be close to an assortment of beaches and restaurants. Hotels and resorts in this area overlook or are very close to Klong Nin beach.
Best Bets: Lanta Palace Resort, Rawi Warin Resort, Moonlight Bay Resort, Lanta II Mare Beach Resort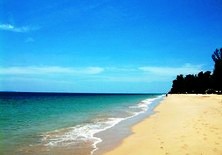 KLONG NIN BEACH
This very cool beach was recently chosen by a leading UK travel website as one of Thailand's top ten beaches. The feeling is very laid back with numerous low to medium priced beachfront bungalows, resorts and villas.
Best Bets: Andalay Boutique Resort, White Rock Resort, Lanta Nice Beach, Amantra Resort & Spa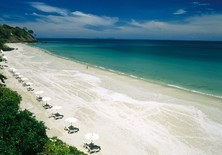 KAN TIANG BEACH
This spectacular stretch of white sand has clear waters and excellent swimming. Mid to high-end hotels occupy perhaps the island's best beach. It's the only beach to stay in green season as its in a protected bay with year around swimming.
Best Bets: Pimalai Resort & Spa, The Houben, Anda Lanta Resort, Baan Lanta, Phra Nang Lanta Hotel, Eyes Lanta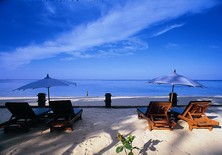 FAR SOUTH BEACHES
Beach, Klong Jark and Mai Phai (Bamboo) Bay are the island's secluded (mostly deserted) beaches but well worth the adventure. Enjoy the popular 'waterfall' walk near Klong Jark Beach, a few kilometers before Ko Lanta's most southern resort beach, Ao Mai Pai, or Bamboo Bay. Staying in this area is best for those who don't want to move around too much.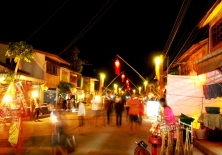 LANTA OLD TOWN
This authentic, Thai-Chinese fishing village has Lanta pole house, suites and rooms for rent; most of which, are located directly over the ocean. Lanta Old Town is located on the nature-rich, southeast coast of Koh Lanta, only 15 minutes away from the beaches and tourist areas on the west coast — yet far enough to allow the village to retain its traditional culture and charm.
Best Bet: Mango House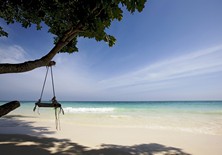 SURROUNDING ISLANDS
Koh Ngai, Koh Jum and Phi Phi Island are all within a 30 minute boat ride away from Koh Lanta. Koh Ngai is simply amazing! Snorkeling right off amazing golden-white beaches – not to be missed if possible. Also, for chilling out on a slow moving island, Koh Jum is a good choice and for those wanting more action, Phi Phi Island should be considered.
Best Bets: Thapwarin Resort, Koh Ngai Resort, Mayalay Resort