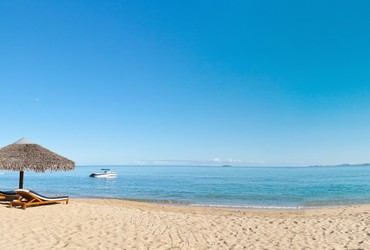 KO LANTA BEACHES AND MAIN AREAS
Baan Saladan Village
Baan Saladan is located on the northwest end of island which is where most tourists arrive by passenger and car ferries. Near this village is Klong Dao Beach, the first of the seven different beaches that run down the west coast. Facilities include vehicle or bike rental, dive shops, banks and shopping outlets. Saladan also has a medical centre and a few larger markets for food and souvenirs. Saladan Video
Klong Dao Beach
Klong Dao is the closest beach to Ban Saladan. This beach is Ko Lanta's most popular family beach with the island's highest concentration of resorts and hotels. The 3 km stretch of sand was the first beach on the island to welcome tourists but is still not crowded even in high season. Read more about Klong Dao Beach.
Ko Lanta Holiday Essentials
Phra Ae Beach (Long Beach)
Phrae Ae, also known as Long Beach, has an amazing 3.5 km of white sandy beach that features and assortment of low to high-end resorts. Like all of Lanta's beaches, Long Beach faces south, so the sunsets are wonderful. This area is popular with families, divers and younger crowds of "travellers" who continue to return to one of Ko Lanta's favourite beaches. Read more about Long Beach
Klong Khong Beach
Kong Khong Beach, with it's laid back atmosphere and amazing sunsets, follows Long Beach on the way to the south end of the island. It is a 3 km beach with a number of small, family-owned and operated establishments with less expensive prices than the previous 2 beaches. Read more about Klong Khong Beach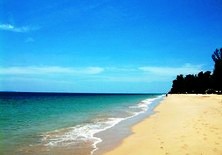 Klong Nin Beach and Klong Tob
The feeling is very laid back on Klong Nin Beach with numerous low to medium priced beachfront bungalows, resorts and villas. All resorts, restaurants and bars are located directly on the beach and a great place to relax. Read more about Klong Nin beach
Klong Tob is a small area near the west end of Klong Nin Beach. This area is ideal for people who want privacy but still want to be close to an assortment of beaches and restaurants. Hotels and resorts in the Klong Tob area are very close to Klong Nin beach.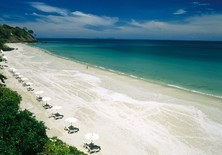 Kantiang Beach
Nearing the south end of the island there is a gorgeous white sandy beach surrounding a small bay of clear tropical blue waters called Kantiang Bay. This beach area has always been popular with backpackers as a great place to hang out and relax on the beach. It also has a couple high-end resorts including the exclusive, 5-star Pimalai Resort and Spa. If you plan to stay at any of the resorts in Kantiang Bay, be sure to book in advance as it is a popular place to stay even during green season.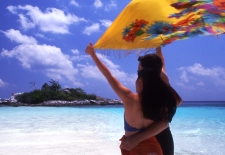 Far South Beach Area
If you're looking for a quiet, low-key holiday, you'll love the far south end of the island. Visitors who venture this far down the island are rewarded by a series of beautiful little beaches with only a few well-spaced resorts, all surrounded by natural forest and jungle. There is a great (non-challenging) hike up the creek to the waterfall at Klong Jark Beach, a few kilometres before you get to Ko Lanta's most southern resort beach, Bamboo Bay. This bay has some mid-level resorts and a few inexpensive bungalow options.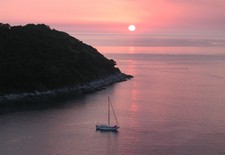 Continuing south, you will reach the Ko Lanta National Marine Park Headquarters, home of the Ko Lanta lighthouse. During high season, you can get to the far southern beaches quite easily, however, during green season it is best to ride in a 4-wheel drive. The road is less travelled, with not many hotel or resort options, so there are far fewer people and you probably won't want to leave.
Plan to bring everything you need and stay for a while and give yourself ample time to get to Baan Saladan if you're departing the island.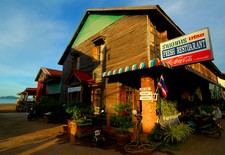 Lanta Old Town
Lanta Old Town, or Sri Raya, is a charming little seaside village on the east coast of the island. As the oldest village on the island and the original town centre, it is rich in history and Thai culture. Most of the homes are built on stilts, overlooking an incredible ocean view that has a sunrise rather than sunset view. It is not a tourist haven with limited accommodations, but there's are several fabulous eateries.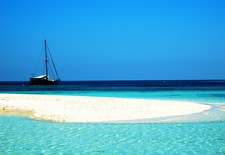 Nearby Small Islands – Koh Muk and Koh Ngai
Koh Lanta is very close to several incredible, tropical islands. One island's worth exploring by day trip (but doesn't have accommodations) is lovely Koh Rok. For those wanting an incredible, white sand beach experience we highly recommend Koh Muk and Koh Ngai, located in Trang Province, but still a short ferry ride or speedboat daytrip from Koh Lanta.