The quickest way to get from Ko Lanta to Krabi Airport is by Express Transfer, combining a van transfer from your Ko Lanta hotel to Saladan pier, a speedboat ride from Ko Lanta pier to Krabi Pier, and then a 45 minute air-conditioned minivan from Krabi Pier to Krabi Airport.
Important! Low Season May 1 to October 31: No Transfer Express
Please note there is no Transfer Express running between May 1 to October 31. This is for safety reasons due to potential rough seas.
You can still book a Transfer Express now for November 1st onwards.
Ko Lanta to Krabi Airport Express Transfer Costs:
2045 Thai baht per adult
1000 baht per child per child 2 to 12 years old – Less Than Half Price
Babies under 2 years old: free
Book Your Krabi Airport Express Transfer
Need a Krabi Airport to Ko Lanta transfer instead? See our Krabi Airport to Ko Lanta page.
How The Ko Lanta to Krabi Airport Transfer Express Works
You are transferred from your Ko Lanta hotel by car to Saladan village pier.
You then go on board the speedboat which takes you on a stunning boat ride across the water along the coastline of Ko Lanta.
The journey takes around 15 minutes depending on weather and conditions.
When you arrive at Krabi speedboat pier, you are transferred to an air conditioned minivan. It's a 45 minute to 60 minute journey from Krabi pier to Krabi Airport.
The total journey time from the speedboat departure to Krabi Airport is 1 to 1.5 hours. Depending on your hotel location on Koh Lanta will depend on your pick up time to meet the speedboat departing. This can range from a 10 minute drive to a 1 hour drive
The earliest speedboat departure time from Koh Lanta is at 06:30. This will get you to Krabi Airport by approx 08:00. Select your flight and hotel on the booking form below to see your hotel pickup time.
Ko Lanta Map
See the map of Ko Lanta for a sense of the distances covered and to orientate yourself.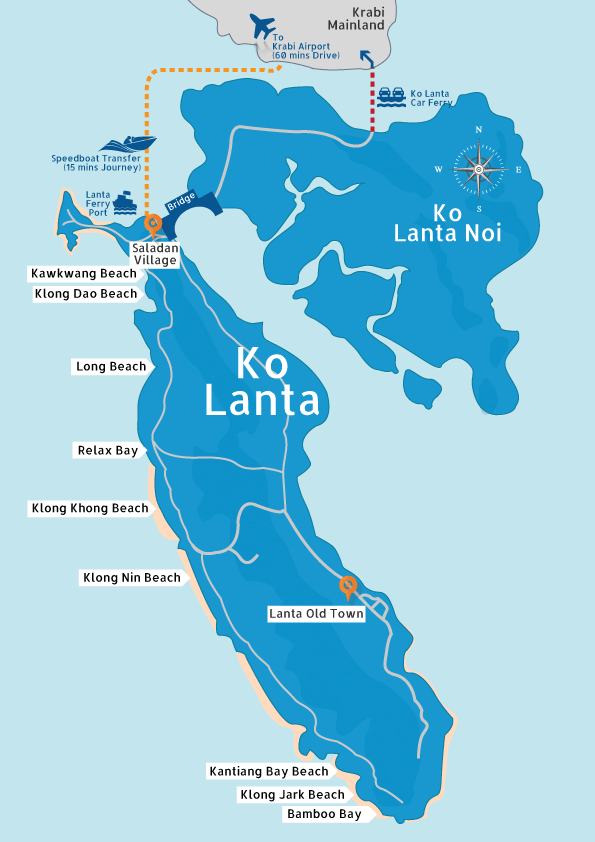 Who Provides The Ko Lanta to Krabi Airport Transfer Express Service?
Your booking and payment will be processed by the customer care team at Amazing Lanta.
When make your booking, you will receive a confirmation email from Amazing Lanta. You will also receive a separate email from PayPal confirming the purchase amount.
The minivan and speedboat service are provided by South Online Travel. Amazing Lanta act as the booking agent for South Online Travel.
Check Flights From Krabi Airport
You need to know your flight arrival and departure times before booking a transfer. There are numerous daily flights to Bangkok from Krabi Airport as well as several direct international flights. Check 12Go to compare all airlines' flight departure times and prices.
Book Your Ko Lanta Hotel
Before you book your transfer, you need to know where you're going to stay on Ko Lanta – otherwise the transfer driver won't know where to pick you up! Check availability and pricing for Ko Lanta hotels on Booking.com. Also see our page Where To Stay On Ko Lanta to help decide which beach is best for you.
Make Sure You Have Travel Insurance
It's important when travelling in Thailand or anywhere in the world to make sure you're prepared for the unexpected. Travel insurance protects you in case of medical emergencies, lost baggage, delayed flights and a whole load of other situations. Give yourself peace of mind by getting travel insurance. World Nomads is recommended by Lonely Planet and National Geographic – you can buy online in a couple of minutes.